Welcome to the Italian-American Society of Peoria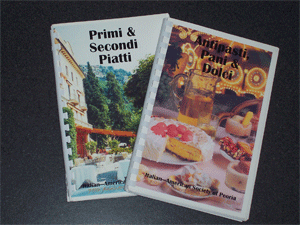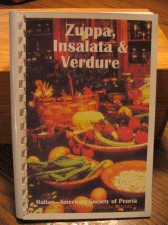 If you've ever wondered how Italian-Americans really cook, check out these cookbooks from the Italian-American Society of Peoria.
We've filled them with family-style recipes which originated here from our members in Peoria, and with traditional recipes found throughout the different regions of Italy.
Many of these older recipes, especially those for pasta-making, have been handed down for generations. We have also included a glossary to make it easier to understand the Italian terms and ingredients.
"Primi & Secondi Piatti"
"Primi & Secondi Piatti," means "First and Second Courses". This cookbook focuses on the main meal; supper during the work-week and lunch on Sunday. "Sunday lunches" can last all afternoon, and usually include at least two courses. Italians believe that to live well is to eat well. Try our recipes and see if you agree!
"Antipasti, Pani, & Dolci"
The Italian -American Society of Peoria continues its tradition of Italian cooking in America with the second edition in the 75th Anniversary Edition Series, which includes recipes for appetizers, breads, and desserts. What better way to celebrate Italian living than with the many small plates we call antipasti (literally, "before the pasta") and wonderful breads that accompany every meal. Of course, each region in Italy has its own special desserts to satisfy the sweet tooth in all of us, and make that good cup of espresso or cappuccino even better!
"Zuppa, Insalata & Verdure"
Our latest book is the perfect way to complete the 75th Anniversary Edition Series! It is filled with delicious soup, salad, and vegetable dishes that will add the finishing touches to the meals from our first two books. Whether it's cooking for the family or entertaining guests, these time tested recipes from all parts of Italy are sure to please!
ORDERING INFO
Cookbooks may be purchased. Please click here for inquiries regarding price and availability of our cookbooks.